Quartzite Slabs – Fabrication and Installation
For the finest fabrication and installation of quartzite slabs for your home or business, contact Castle Tile Marble and Granite.  One of the most popular materials, quartzite is a strong natural stone known for its marble like appearance and functionality.  Resistant to heat and more durable than granite, quartzite will not etch, scratch, or stain, making it perfect for any home or business application.  Specializing in the fabrication of custom quartzite slabs, each piece at Castle Tile Marble and Granite is of the highest quality and designed to fit your needs, lifestyle, and budget.  Valued for its beautiful colors and rich texture, quartzite can be found in a variety of colors including white, brown, black, blue, grey, pink, yellow and orange.  Whether you are looking for a way to make a statement, increase the value of your property, compliment your existing décor, or express your personal style, quartzite is perfect for you. All our stone is handpicked from the most renowned quarries around the world to ensure the finest slab is used for each project. With a large inventory of quartzite slabs in stock, contact us or stop by our Delray Beach showroom today!
What Makes Quartzite Slabs from Castle Tile Marble and Granite Superior to others in Palm Beach County?
Quality & Selection at Affordable Prices
At Castle Tile Mable and Granite, we strive to provide our customers with the highest quality craftsmanship and slabs.  We only purchase and fabricate the highest quality quartzite slabs allowing us to create stunning countertops that are both functional, durable, and stylish in appearance. Family owned and operated, we have been serving homeowners, contractors, designers, business owners, property managers and architects in Palm Beach County since 2007. As a wholesaler and retailer, we can pass tremendous savings to our customer. With hundreds of satisfied customers and an
abundance of positive reviews
, we are one of the best and most respected importers, manufacturers, fabricators, and installers in the area. From design through installation, our team will create the surface of your dreams.
Quality Quartzite Slabs for your Home or Business
Residential Countertops
Commercial Countertops
Bar Countertops
Outdoor Countertops
Kitchen Islands
Vanities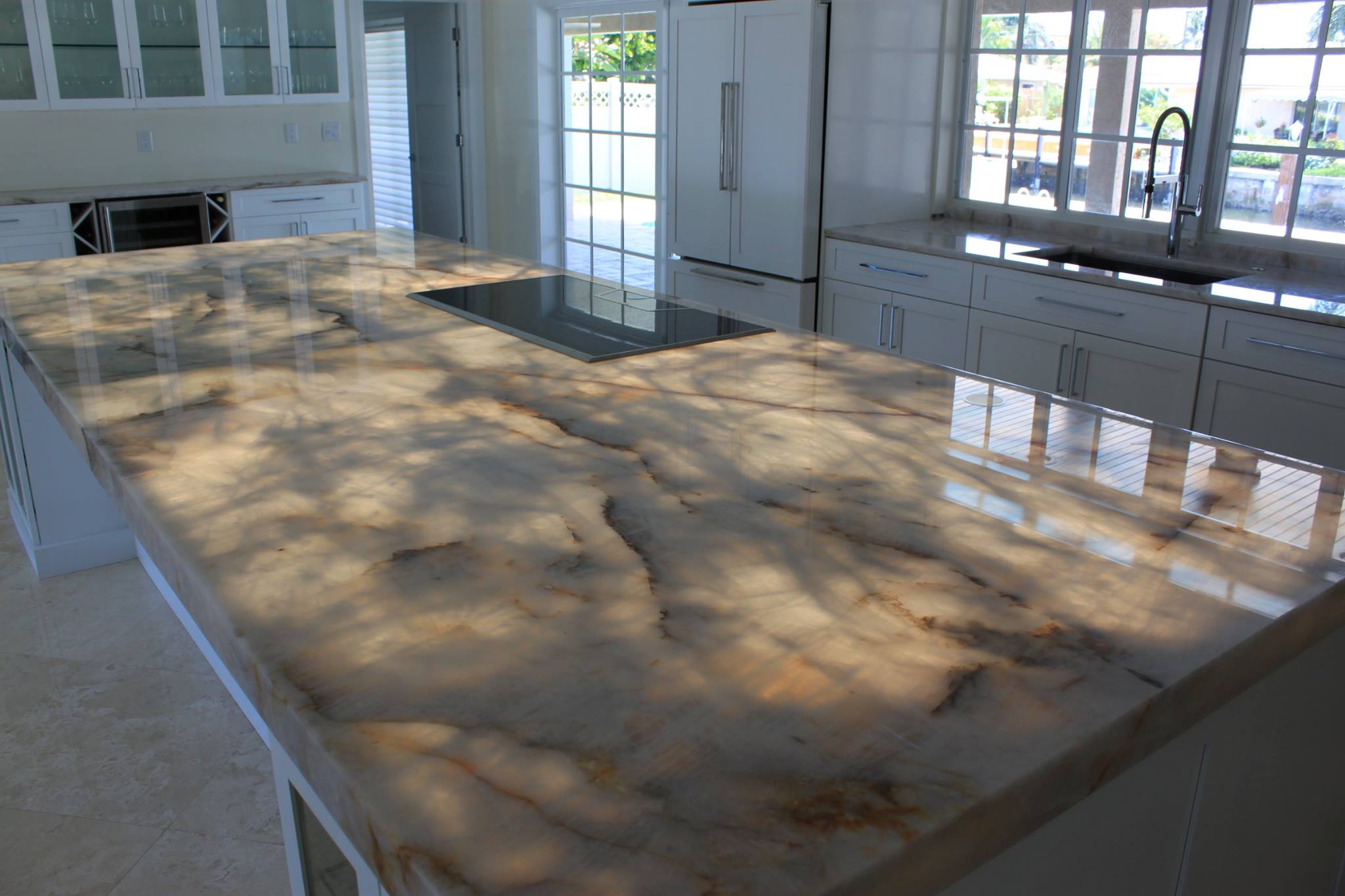 If You are Looking for an Eye Catching, Durable Countertop Surface, Quartzite Slabs are Perfect for You
If you love the look of marble and the durability of granite, quartzite is perfect for you. Quartzite slabs have natural veins and come in a variety of colors including grey, white, beige, pink, yellow, purple, orange, and brown. The natural veining found in quartzite combined with eye catching colors creates a beautiful, durable surface.  Additional Benefits include:
Looks like Marble – If you love the look of marble, quartzite is perfect for you. Quartzite is available in many colors and will keep its color over time.  Some quartzite surfaces look so much like marble, it is hard to tell them apart.
Resistant to Heat and Fire – Quartzite is resistant to both heat and fire, making it a great kitchen countertop surface.
Resistant to Chipping & Scratching – Unlike marble, quartzite is resistant to scratching, chipping, and etching.
Low Maintenance – Quartzite is easy to clean.  Soap and water will keep your countertops looking great.
UV Resistant – Quartzite is resistant to UV rays, making it ideal for outdoor kitchen countertops or in kitchens or bathrooms that have direct natural light.
More Durable – Quartzite is more durable than marble or granite making it a perfect countertop surface for a kitchen, bathroom, bar, and more
Choose the Best Quartzite Slabs for your Remodeling Project in Palm Beach County
Castle Tile Marble & Granite is your trusted single source for all your quartzite slab and countertop needs. The design experts at Castle Tile Marble & Granite will consult with you in your home, or business to help you choose just the right color schemes to help you achieve the look and ambiance you desire at a price you can afford . Locally owned and operated since 2007, we strive to deliver the highest standard of quality, integrity, and customer satisfaction at an affordable price. Contact us today 

We had shopped for stone and fabricator for many months. Our kitchen counter area is quite large with multiple levels and expansive backsplash. Their price was very competitive, the quartzite is exquisite, and the cut/fabrication/installation was of expert perfectionist quality. We are delighted they were able to complete the entire job with two full slabs. The many angles and cuts were extremely tight, and the installers were careful, clean, and determined to finish with the highest quality product. We're also quite glad we chose the quartzite backsplash addition and that Ray helped us understand how it was possible. Most kitchens aren't as large or complicated as ours, and they nailed it. Very highly recommended.
Click Here to Browse through our Gallery of Premium Quartzite Slabs >
Choose from our Large Selection of Beautiful, Elegant Stone Countertops & Flooring
Castle Tile, Marble & Granite Proudly Offers Services in the Following Areas
Lake Clark Shores Lake Worth Lantana Manalapan Ocean Ridge Palm Springs Parkland Wellington